3 August 2007 (
VPG
movies
) (
3 comments
)
... ha úgy akar, hát a plafonon halad!
Szerdán az irodában végigröhögtük a napot a fenti Simpsons-traileren. Aztán amikor tegnap Szabival meglátogattuk PaGyuékat kézműben, az alábbi pókmalacot készítettem agyagból: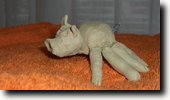 For English-speaking visitors, the above is my artistic rendition of Spiderpig in clay, from the Simpsons movie trailer.
Apropó Szabi, az milyen már, hogy kb. egy hónapja elindultak hárman biciklivel Amszterdamba, és az egyikük, aki persze ugyanúgy készült, csomagolt, tervezett, húsz kilométernyi, szembeszéllel nehezített tekerés után közölte, hogy "biciklizzen a faszom", és visszafordult?
---
---